Straight from On With Mario Lopez, Kira Kazantsev joins Jessica Northey and Tommy Geraci (@teeco71) for this week's #HeySTAR twitterview! Kira has many platforms she is passionate about like Love Shouldn't Hurt: Protecting Women Against Domestic Violence and is also the THIRD consecutive Miss America from New York! We can't wait to bring you this interview at 9pm ET/6pm PT. You can join in by using the hashtag, #HeySTAR and following @JessicaNorthey, @MissAmerica, @teeco71, and @HeySTARLive. 
Make sure your tiara is on straight and be sure to ask some questions of your own, the hour goes by fast but you may just get a special response from Miss America! #HeySTAR has been doing phenomenally each week and I think it is becoming a great way to make new social media friends who share an interest in Pop Culture and all things Entertainment! 
Who would you like us to interview next? We have some amazing guests coming up but you never know who else we could fit in!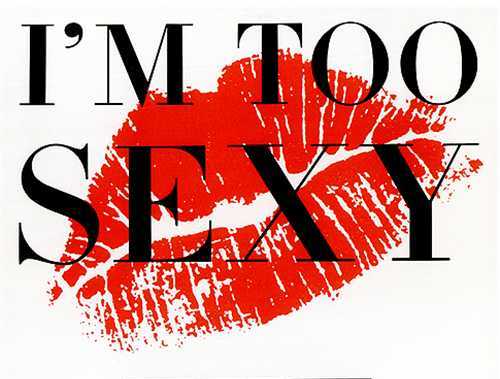 Today at 4pm ET/1pm PT, Jessica Northey and I have a #HeySTAR Twitterview with the iconic Right Said Fred. Their song, "I'm Too Sexy" was a huge hit and is one we still recognize as soon as we hear it come on. I don't think there is anyone who hasn't sung a few verses at a party or just for no reason at all. 
Be sure to follow @HeySTARLive, @JessicaNorthey, me @teeco71, and @TheFreds. Use the hashtag #HeySTAR to join in on all the fun. Feel free to ask them a few questions of your own throughout the hour because they will be addressing fan questions in addition to ours! 
In Light of our interview, I thought it would be fun to make a list of things we are "TOO SEXY" for. I would LOVE for each of you to weigh in with your own ideas as well!
I'm TOO SEXY for: 
My job (seriously, if you only knew)
drama (who needs it?)
fake friends (bye Felicia)
Flying Coach (haha)
Bad attitudes (check those at the door)
Posers (Nobody got time for that)
Gossip (get a hobby)
Traffic (again, seriously)
Long lines (We've got places to be)
My workout (can't we just all be naturally slim, trim, healthy, & sexy?)
Bad fashion (should be outlawed)
ugly shoes (especially if they're also uncomfortable)
What things are you TOO SEXY for? 
Although I may not be a teen, I am up on all the entertainment today's teens, tweens, and young adults have available to them and I must admit, I have my favorites. Tonight FOX will be airing the Teen Choice Awards at 8PM. As with any award show, whether I am attending or watching from home, I will be tweeting along with all of you. Here is a list of the categories and nominees. I would LOVE to hear from you with your predictions and reactions throughout the show.
I indicated my predictions in BOLD, feel free to leave yours in the comments:
Choice Movie: Action/Adventure
Furious 7
Insurgent
Kingsman: The Secret Service
San Andreas
The Maze Runner
Tracers
Choice Movie Actor: Action/Adventure
Ansel Elgort – Insurgent
Dylan O'Brien – The Maze Runner
Paul Walker – Furious 7
Taylor Lautner – Tracers
Theo James – Insurgent
Vin Diesel – Furious 7
Choice Movie Actress: Action/Adventure
Alexandra Daddario – San Andreas
Jordana Brewster – Furious 7
Kaya Scodelario – The Maze Runner
Maggie Grace – Taken 3
Michelle Rodriguez – Furious 7
Shailene Woodley – Insurgent
Choice Movie: Sci-Fi/Fantasy
Avengers: Age of Ultron
Cinderella
Mad Max: Fury Road
The Hobbit: Battle of the Five Armies
The Hunger Games: Mockingjay – Part 1
Tomorrowland
Choice Movie Actor: Sci-Fi/Fantasy
Channing Tatum – Jupiter Ascending
Chris Hemsworth – Avengers: Age of Ultron
George Clooney – Tomorrowland
Josh Hutcherson – The Hunger Games: Mockingjay – Part 1
Liam Hemsworth – The Hunger Games: Mockingjay – Part 1
Robert Downey Jr. – Avengers: Age of Ultron
What I'm looking forward to in Entertainment
#EraseMS Event - April 24th Los Angeles 
Regal Con - May 8th, 9th, and 10th
Film Festivals
A Second One Tree Hill EyeCon Convention August 7th, 8th, and 9th 
The Emmys
EyeCon The Vampire Diaries/The Originals Convention - October - Atlanta GA
EyeCon OTH
I am so thrilled to be able to announce this & be a part of it! Follow @EyeCon3000 to stay up to date!